Valle Luna, "or Moon Valley"
Valle Luna is an old fashioned family owned-and-operated business that proudly observes the Sonoran food traditions. The entire southern border of Arizona is bounded by the great Mexican state of Sonora. With their proximity and stark topographic similarities, it is only natural that these two friendly states would share their cultures, reflect such things as architecture and building style, music and language, and of course, food and drink traditions.
In the mid-1970's Tia Rita, our Family Matriarch, journeyed to upstate New York with her Arizona-Sonoran recipes. Tia Rita's quickly set award winning standards with her Mexican food, including being named "Best of Syracuse". Upon returning to Arizona in 1983, Rita and the family founded the original Valle Luna on West Bell Road.
Tia Rita passed away in 2008 and from the heavens orchestrated the validation of her life's-work when Valle Luna was named "Best of Phoenix" -- 2009, by New Times Magazine. The Valle Luna family celebrates and honors Rita's ideals of quality, affordability, and excellence in food and drink, and wholeheartedly promises you our very best efforts to ensure your memorable dining experiences.
Buen Provecho…Amigos
Enjoy!!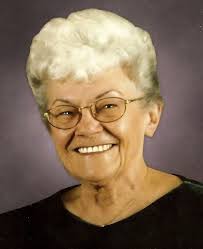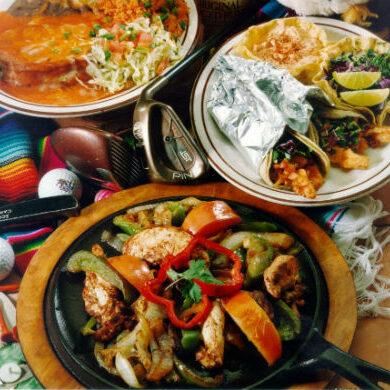 Tender, juicy, marinated Steak, Pork, Pollo or Shrimp (or a combination of any two). Served with Choice of Beans, Spanish Rice, Lettuce, Cheese, Sour Cream and Guacamole along with Warm Tortillas
$15.95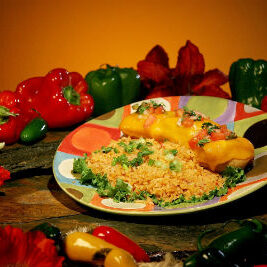 Choice of juicy, marinated and grilled tender Steak, Pork, Pollo or Shredded Beef or Chicken. Rolled in a Flour Tortilla with Jalapeno Cream Cheese, deep fried and topped with melted Cheddar Cheese. Complete with Spanish Rice and choice of Beans.
$15.50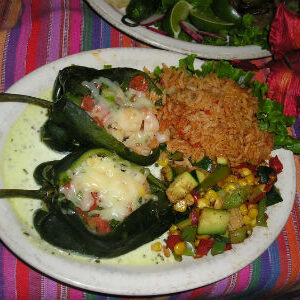 Shrimp Stuffed Poblano Chiles
Two chiles stuffed with Shrimp in a blend of Monterey Jack Cheese, Onions and Tomatoes. Served with Jalapeno-Lime Cream sauce, Calabacitas, Spanish Rice and Choice of Beans. May substitute Grilled Steak, Pork, or Pollo at no extra charge.
$15.95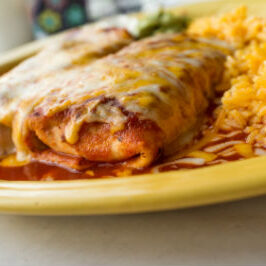 Choice of Meat filling and rolled in a flour tortilla, deep fried and topped with our Homemade Sonoran Chimi sauce along with Guacamole and Sour Cream. Served with Spanish Rice and Choice of Beans.
$13.95
Here are some select items on our menu. Give them a try!
Stay Updated About Our Restaurant Activities
Valle Luna Gift Cards available in any denomination.
Please visit one of three Valle Luna locations: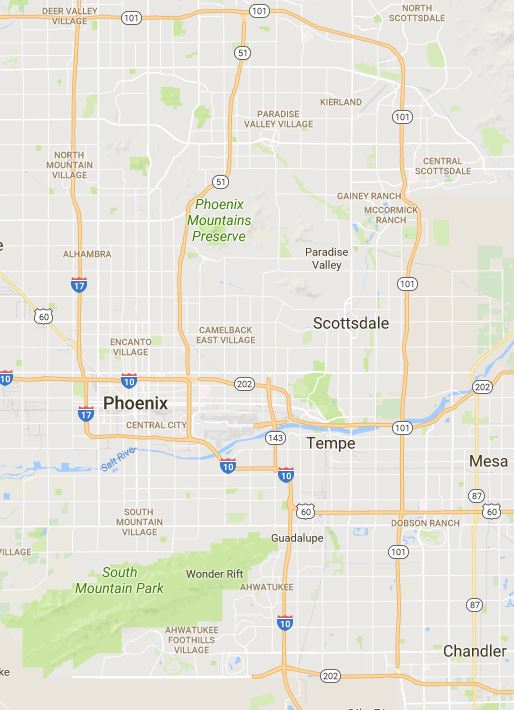 Bell West Plaza
3336 W. Bell Rd
Phoenix, AZ 85053
Paradise Valley
16048 N. Cave Creek Rd.
Phoenix, AZ 85032
The Boardwalk at Andersen Springs
1949 W. Ray Road
Chandler, AZ 85224